Acheivement
From its founding in 1993, for 18 years, JHP has continued to mostly support education in Cambodia. Here, we will introduce main achievements and results about this undertaking.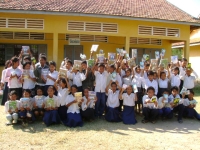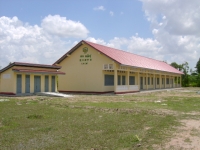 School Construction
  From 1993 to March in 2011, over 26270 schools have been built around 16 areas in Cambodia, and also 1 school has been built in Laos. In the beginning of foundation, there were problems of safety so schools were mainly built in Phnom Penh. As the years have gone by, we expanded our activities, in the southern Ta Khuman Prefecture, in the eastern Prey Veng Prefecture, and recently the northern area of Ban Ta Tuat. Our JHP schoolhouses are famous for being simple and sturdy, and other organizations have modeled our design. In August, 2008 the 200th school building was finished being built.
Music Education
  The teachers who have attended many different kinds of training offered by JHP are currently giving musical lessons at their schools. Since 2004 musical contests have been held every year and in 2006 JHP issued musical student textbooks (referrer to the picture) for the first time in Cambodia. In 2010 the number of schools that take part in this contest is three times more than 2004. It proves that educating teachers and popularizing Musical Education has shown a lot progress.
Arts Education
  The number of people who are attending training offered by JHP has reached as many as one thousands five hundred. Currently there are 136 teachers in active service and 1361 students in teacher training. The fruit of their labor have yeilded 69 schools in Cambodia that are giving art classes. In 2005 we published an all-inclusive teacher's manual, which contained many different lessons ideas. In Cambodia a mobile art gallery has continued since 1999 and every year collections of pictures from the highest quality works have been published.
Hygiene Education
  School constructionplanning by JHP also includes the setup of wells and toilets. In past 17 years we have set up 178 toilets, 764 rooms and about 91 wells. These toilets are an original design with ramps and handrails because we aim to care for handicapped children who are suffering from mine injuries and polio. In 1991 we published a textbook about hygiene and we have been distributed about 10,000 books around these schools.
Dispatching volunteer workers
  We are dispatching overseas volunteer workers around Cambodia as a practice of global civic education. In addition to domestic disaster relief, regardless of gap among universities, many university students have worked very hard to aid the Cambodian people. The same committee who participated in sending blankets to African countries in 2006, 2007 and 2009 have been sent as workers both domestically and abroad.